David's preschool celebrated the beginning of fall with apples.  His teacher even brought an apple peeler corer slicer (which we've affectionately named an "apple torture" device.)  David LOVED it!  He peeled 5 apples himself (and he ate most of them, too.)  The next day, he woke up and said "Go see Teacher Lalaine."  When I told him that we weren't going to go to preschool that day, he replied "but cut more apples, cut more apples, please."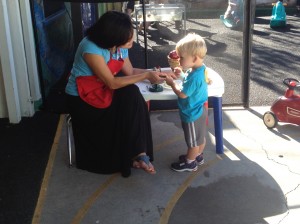 Over the weekend, we actually had rain.  Considering that it's rained for the majority of the summer for our family in Georgia, one wouldn't think that rain should be newsworthy … but this was the first rain we've had in a long time.  David was really confused as to why we couldn't go to the park to climb.  Instead, we passed the time by having bike races in the garage with our neighbor.
Sunday, Chris and I celebrated our 6th Anniversary by running a 10K.  Luckily, we had a beautiful morning without rain.  We both finished at around a 9:20 mile, too.